AFFINISEP
+33(0)2 35 18 69 14
www.affinisep.fr


10 RUE RICHARD DUFOUR
76770 LE HOULME
FRANCE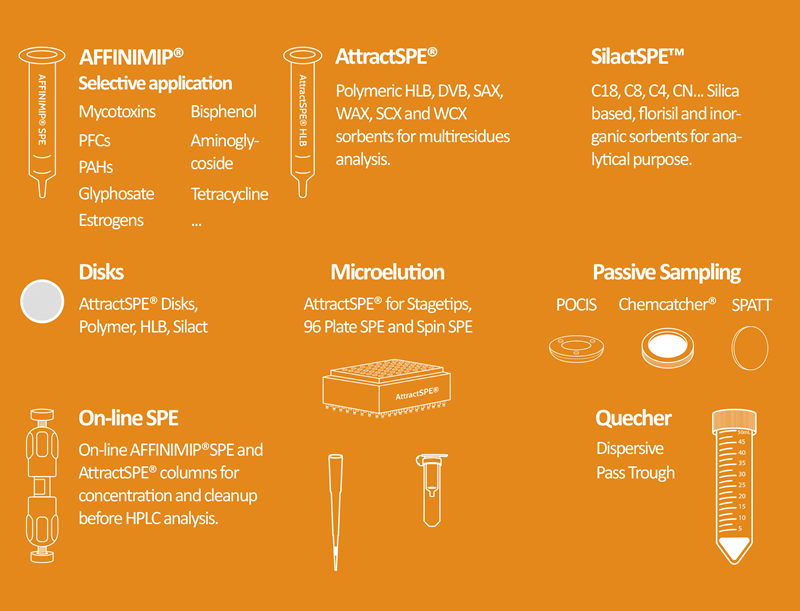 Depuis 2004, AFFINISEP développe et fabrique des kits innovants afin de faciliter le traitement d'échantillons et l'échantillonnage pour la détection et le suivi des divers contaminants dans les eaux et les denrées alimentaires.
AFFINISEP offre une gamme innovante AFFINIMIP® SPE, de kits d'extraction en phase solide, prêt à l'emploi, avec des méthodes simples basées sur la technologie des polymères à empreinte moléculaire (MIP). AFFINIMIP® SPE est disponible pour de nombreuses applications comme l'analyse des :
Mycotoxines
Antibiotiques et Résidus de médicaments (Aminoglycosides, Tétracyclines, Chloramphénicol, Amphétamines)
Pesticides, Herbicides (Glyphosate & AMPA, les herbicides dérivés de l'acide picolinique tels que le Clopyralide, le Picloram et l'Aminopyralide), …)
Hormones, Micropolluants Organiques, Perturbateur endocriennes (Bisphénol A et autres bisphénols, œstrogènes naturels ou de synthèse,…),
Phytosanitaires
HAPs dans les matières grasses
AFFINISEP propose également des échantillonneurs passifs AFFINIMIP®POCIS pour la surveillance des contaminants et des Micropolluants Organiques dans les eaux (eaux de surface, eaux souterraines, eaux côtières ...).
En outre, en exploitant notre échantillothèque de polymères innovants et notre savoir-faire en chromatographie et en extraction en phase solide, nous avons une forte capacité d'adaptation des polymères pour résoudre les besoins de purification et d'extraction spécifiques. De nombreux documents liés à notre production (cahiers d'application, références de publication, posters, catalogue de produits pour les différentes applications) peuvent être consultés sur notre site internet: www.affinisep.com
Since 2004, AFFINISEP develops and manufactures a full range of solid phase extraction (SPE) kits for sample preparation, sample clean-up as well as passive samplers in various fields such as water, food and feed analysis.
AFFINIMIP® SPE based on molecularly imprinted polymers targets a broad range of applications like :
Mycotoxins
Antibiotics and residues (Aminoglycosides, Tetracyclines, Chloramphenicol
Pesticides, Herbicides (Glyphosate & AMPA, Picolinic acids derivatives such as picloram, clopyralid and aminopyralid, …)
Hormones, Micro Organic pollutant, … (Bisphenol A and other bisphenols, Estrogens, Zeranols,…),
PAHs in fatty food
AFFINISEP manufactures as well AFFINIMIP® POCIS a powerful integrative passive sampler. AFFINIMIP® POCIS enables the monitoring of contaminants in waters using no power, no maintenance and supervision!
Besides, by exploiting our library of innovative polymers and our know-how in chromatography and solid phase extraction, we have a strong capability to adapt these polymers to meet any specific requirements and to solve unsatisfied purification and extraction needs. Numerous documents related to our products (Application notebooks, publication references, posters, products catalog for different applications…) can be found on our website www.affinisep.com.
AFFINISEP a choisi ses mots clés en lien avec son activité :

* analyse aliments - food analysis
* analyse aliments (prestation) - food analysis (services)
* analyse des contaminants - contaminant analysis
* analyse des mycotoxines (appareils et réactifs) - analysis of mycotoxins (instruments and reagents)
* analyse des mycotoxines (prestation) - analysis of mycotoxins (services)
* analyse du lait - milk analysis
* analyse eau - water analysis
* analyse eau (prestation) - water analysis (services)
* analyse extrait plante (prestation) - analysis of plant product (service)
* analyse par chromatographie en phase liquide HPLC (prestation) - HPLC liquid phase chromatography analysis (services)
* antibiotique - antibiotic
* échantillonneur - sampler
* calibration standards - calibration standards
* capteur - sensor
* chromatographie phase liquide haute pression HPLC (appareil) - High Pressure Liquid Chromatography HPLC (instrument)
* chromatographie phase liquide haute pression HPLC (réactif) - High Pressure Liquid Chromatography HPLC (reagent)
* colonne de chromatographie HPLC - HPLC column
* colonne extraction - extraction column
* colonne immuno-affinité - immunoaffinity column
* colonne SPE - column SPE
* déoxynivalénol DON - deoxynivalenol DON
* détection HAP - Hydrocarbures Aromatiques Polycycliques - detection HAP
* don - DON
* dosage - dosage
* eau (analyse) - water (analysis)
* extraction - extraction
* extraction (système) - RETRACTION SYSTEM
* extraction ADN / ARN - DNA / RNA isolation
* extraction liquide / solide cartouches - liquid-phase / solid-phase extraction cartridges
* extraction phase solide SPE - Solid Phase Extraction SPE
* extraction SFE - extraction SFE
* génomique (réactif) - genomics (reagent)
* kit de détection - detection assay kit
* membrane de transfert protéines ADN électrophorèse - electrophoresis DNA protein transfer membrane
* membrane filtrante - filtration membrane
* membrane hydrophile - hydrophilic membrane
* membrane hydrophobe - hydrophobic membrane
* mesure et analyse eau et gaz - water and gas measurement and analysis
* micropipette - micropipette
* microplaque à filtre - Filter microplate
* mycotoxine - mycotoxin
* neuroscience réactif - neuroscience reagent
* nivalenol - nivalenol
* ochratoxine - ochratoxin
* oenologie (appareil et réactif) - oenology (equipment and reagent)
* oenologie (réactif) - oenology (reagent)
* pack de purification eau - water purification kit
* pesticide réactif pour recherche - pesticide determination (reagent)
* plaque de filtration - filtration plate
* plaque de microtitration - microtitration plate
* plaque extraction - extraction plate
* préfiltre - prefilter
* prélèvement sanguin - blood sampling
* préleveur échantillon - sampler
* préparateur automatique échantillon - automated sample preparation system
* préparateur de microplaque - sample preparation system for microplate
* préparation échantillon - sample preparation
* préparation d ARN et d ADN - DNA RNA preparation
* prestation de service - service
* protéine purification - protein purification
* protéomique - proteomics
* protein chip - protein chip
* purificateur eau - Water purifier
* purification - purification
* purification ADN - DNA purification
* purification ARN - RNA purification
* purification de peptides - peptide purification
* purification de plasmides - DNA plasmid purification
* purification eau - purification water
* purification PCR - PCR purification
* résine échangeuse ion - ion exchange resin
* séparation (techniques de) - separation (techniques)
* séparation chirales préparative - preparative chiral separation
* séparation d oligo-saccharides - oligo-saccharide separation
* séparation solide liquide - solid liquid separation
* SPE automatisee - automated SPE
* spectrométrie de masse - mass spectrometry
* spectrométrie de masse MALDI-Tof - MALDI-Tof mass spectrometry
* spectrométrie de masse multi-élémentaire - elemental mass spectrometry
* spectrométrie de masse organique - organic mass spectrometry
* spectrométrie de masse quadrupole - quadrupole mass spectrometry
* standard - standard
* toxine - toxin
* validation - validation
* vitamine - vitamin

Historique des articles présentés dans la Gazette du LABORATOIRE
| | | |
| --- | --- | --- |
| MAI 2014 | AFFINISEP, nouvelle filiale de POLYINTELL - Des méthodes, produits et services innovants en matière d'extraction, de séparation et de détection sélective de molécules | |
| JUILL/AOUT 2010 | PolyIntell signe avec Gilson un accord de distribution exclusive | |
| AVRIL 2010 | POLYINTELL clôture avec succès une levée de fonds d'environ un million d'euros | |
| OCTOBRE 2009 | POLYINTELL, HOLODIAG et TFChem inaugurent leurs installations sur le Pharma Parc II à Val-de-Reuil | |
Contacts :
-

Horaires et jours d'ouverture :
du lundi au jeudi de 9h00 à 18h00 - le vendredi de 9h00 à 17h00

1032 visites depuis 01 janvier 2023