Retour / Go back
BUCHI SARL

5 RUE DU PONT DES HALLES
ZA DU DELTA
94656 RUNGIS CEDEX
FRANCE
Vivez l'expérience BUCHI !

BUCHI c'est 80 ans d'expertise, d'innovations et de savoir-faire. Depuis l'ouverture de l'atelier de verrerie en 1939, par Walter BUCHI, notre société n'a eu de cesse d'innover pour devenir le leader incontesté des techniques d'analyse en laboratoire.

Toujours attentifs aux besoins des scientifiques et des industriels, nous avons mis en place une organisation avec un positionnement stratégique par marché : une unité commerciale et technique dédiées à la fois, à l'industrie chimique et pharmaceutique, et à l'industrie agroalimentaire et de l'alimentation animale.

Nous maîtrisons parfaitement de multiples techniques analytiques et fournissons des solutions conçues pour des analyses rapides (par proche infrarouge) ou des méthodes traditionnelles (méthode Kjeldahl, extraction Soxhlet), qui s'intègrent dans des protocoles de contrôle qualité les plus exigeants.

Le savoir-faire de BUCHI se traduit actuellement par le lancement d'une nouvelle gamme de systèmes de chromatographie flash et prep alliant polyvalence, encombrement réduit et sécurité maximale.

Forts de notre expérience nous avons développé des nouvelles solutions d'extraction complètement automatisées, rapides et flexibles, qui permettent de changer de méthodes au gré des exigences, et en toute simplicité.

Toutes nos solutions analytiques s'inscrivent dans une démarche écoresponsable, visant à protéger au maximum les opérateurs et préserver leur environnement de travail.

| | | | |
| --- | --- | --- | --- |
| | | | |

Contacts :

Pour un devis : Hélène Rappart

01 56 70 62 50

Pour une commande et ADV : Marie-Anne MAGDER

01 56 70 62 52

Pour une question d'ordre technique sur la gamme Méthodes de référence : Loic EHANNO

01 56 70 62 53

Pour une question d'ordre technique sur la gamme Proche Infrarouge : Matthieu YVENAT

01 70 13 91 62

Pour le SAV : Christine JEANJEAN

01 56 70 62 56

Pour contacter la direction commerciale et marketing : Freddy MOY

01 56 70 62 51

Documents PDF en téléchargement Programme de formations sur les principes fondamentaux d'utilisation des solutions BUCHI





La nomenclature de
BUCHI SARL :

accessoires pour spectrométrie IR et IRTF

-

IR and FTIR spectrometry accessories

agitateurs à va et vient

-

rocker shakers

agitateurs oscillants

-

shakers with gyratory motion

analyse aliments

-

food analysis

analyse azote

-

nitrogen analysis

analyse de l'eau

-

water analysis

analyse des nitrates

-

analysis of nitrates

analyse des pesticides

-

analysis of pesticides

analyse des sols

-

analysis of soils

analyse du lait

-

milk analysis

analyse en ligne

-

continuous analysis

analyse graisses

-

grease analysis

analyse industrielle

-

industrial analysis

analyse physico chimique

-

physical and chemical analysis

analyse physico chimique de l'eau

-

physical and chemical analysis of water

analyse protéines

-

protein analysis

analyses pétrolières

-

analysis of petrol products

analyseurs de process

-

process analysers

autoclaves

-

autoclaves

automates chimie combinatoire

-

automated instrumentation for combinatorial chemistry

automates H.T.S.

-

High Throughput Screening HTS automatic systems

azote (analyse)

-

nitrogen (analysis)

évaporateurs

-

evaporators

évaporateurs concentrateurs

-

evaporators condensers

évaporateurs rotatifs

-

rotary evaporators

bains à rampe d évaporation

-

evaporation baths

bains cryothermostats

-

cryothermostatic baths cryothermostats

blocs réactionnels pour synthèse parallèle

-

reactors for parallel synthesis

chimie combinatoire

-

combinatorial chemistry

chimie organique sur phase solide

-

solid phase organic chemistry

chromatographie phase liquide (appareils et réactifs)

-

liquid phase chromatography (instruments and reagents)

chromatographie pompes

-

chromatography pumps

chromatographie préparative

-

preparative chromatography

cloches à vide

-

vacuum bell jars

collecteurs de fraction

-

fraction colletors

colonnes à distiller

-

distillation columns

colonnes d'extraction

-

extraction columns

colonnes de chromatographie

-

chromatography columns

consommables pour chromatographie

-

consumables for chromatography

creusets

-

crucibles

cryothermostats

-

ultra low refrigerated circulators

DCO (appareils)

-

COD measurement systems

distillateurs pour azote

-

nitrogen distillation systems

extracteurs

-

extractors

extraction (système)

-

RETRACTION SYSTEM

extraction liquide / solide cartouches

-

liquid-phase / solid-phase extraction cartridges

extractions

-

extractions

formations diverses

-

training

formations en techniques analytiques

-

analytical technics (training)

formations spectrométrie IRTF

-

FTIR spectrometry (training)

fours

-

ovens

fours de laboratoire

-

laboratory ovens

gels de silice

-

silica gels

graisses

-

lubricants

gros matériels laboratoire

-

laboratory equipment

groupes de pompage

-

pump groups

groupes de pompage à vide

-

vacuum pumping units

hydrogène (appareils de mesure)

-

hydrogen (sensors)

IR et IRTF

-

IR and IRTF

Kjeldahl dosage

-

Kjeldahl titration method

logiciels de spectrométrie

-

spectrometry software

logiciels pour chromatographie

-

chromatography software

minéralisation

-

mineralisation

point de fusion

-

melting point

pompes à membranes

-

diaphragm pumps (porous membrane)

pompes à vide

-

vacuum pumps

pompes de laboratoire

-

pumps for laboratory use

pompes pour chromatographie

-

pumps for chromatography

réacteurs

-

reactors

réacteurs haute pression

-

high pressure reactors

réfrigérants

-

refrigerants

régulateurs de pression

-

pressure control systems

réparation de matériel de laboratoire

-

laboratory equipment repair

refroidisseurs

-

recirculating coolers

robotique de laboratoire

-

laboratory automation

SAV maintenance des appareils

-

instrumentation maintenance and after sales service

séparation (techniques de)

-

separation (techniques)

service apres vente SAV

-

after sales service

sondes à immersion avec fibres optiques

-

optic fiber immersion sensors

spectrophotomètres

-

spectrophotometers

spectrophotométrie proche IR,IR, IRTF

-

Near Infrared, IR, FTIR spectrophotometry

spectroscopie NIR et NIT

-

NIR AND NIT spectroscopy

synthèse chimique combinatoire

-

combinatorial synthesis

synthèse en phase solide

-

solid phase synthesis

verrerie de laboratoire

-

laboratory glassware

vide (techniques)

-

vacuum (techniques)




Articles publiés dans

La gazette du laboratoire

| | | |
| --- | --- | --- |
| DECEMBRE 2017 | Lyophilisation infinie pour vos échantillons précieux | |
| OCTOBRE 2017 | Lyophilisation de tranches de truffe fraîche avec le Lyovapor™ L-200 Pro de BUCHI | |
| JANVIER 2017 | BUCHI, leader mondial de l'évaporation rotative, fête ses 15 ans sur le marché français | |
| DECEMBRE 2015 | BUCHI présente sa nouvelle plateforme DYNAMIC dédiée à l'évaporation rotative | |
| OCTOBRE 2015 | BUCHI présente sa nouvelle plateforme DYNAMIC dédiée à l'évaporation rotative | |
| AVRIL 2013 | Le Rotavapor® BUCHI, au goût de la gastronomie moléculaire ! | |
| MARS 2013 | Paris, ENSCP – Chimie ParisTech, le 15 novembre 2012 : Grand succès pour le séminaire BUCHI « Atomisation de séchage » | |
| OCTOBRE 2012 | Bon anniversaire à l'équipe BUCHI France ! 10 ans et plus que jamais motivée à vous servir au plus près de vos besoins | |
| JUILL/AOUT 2012 | BUCHI ouvre de nouveaux horizons Kjeldahl avec le lancement du distillateur automatique KjelMaster K-375 couplé au passeur d'échantillons KjelSampler | |
| JUIN 2012 | BUCHI lance un nouveau système Kjeldahl automatique | |
| MAI 2012 | Scrubber K-415 : Une nouveauté BUCHI 2012 | |
| NOVEMBRE 2011 | BUCHI lance l'Encapsulator Des solutions sans égal pour produire vos particules de 150 à 2000 micromètres | |
| JANVIER 2011 | Trois laboratoires dotés du tout nouveau Rotavapor R3 de BUCHI | |




Contacts :
Pour un devis : Hélène Rappart
01 56 70 62 50
Pour une commande et ADV : Marie-Anne MAGDER
01 56 70 62 52
Pour une question d'ordre technique sur la gamme Méthodes de référence : Loic EHANNO
01 56 70 62 53
Pour une question d'ordre technique sur la gamme Proche Infrarouge : Matthieu YVENAT
01 70 13 91 62
Pour le SAV : Christine JEANJEAN
01 56 70 62 56
Pour contacter la direction commerciale et marketing : Freddy MOY
01 56 70 62 51


Vivez l'expérience BUCHI !
BUCHI c'est 80 ans d'expertise, d'innovations et de savoir-faire. Depuis l'ouverture de l'atelier de verrerie en 1939, par Walter BUCHI, notre société n'a eu de cesse d'innover pour devenir le leader incontesté des techniques d'analyse en laboratoire.
Toujours attentifs aux besoins des scientifiques et des industriels, nous avons mis en place une organisation avec un positionnement stratégique par marché : une unité commerciale et technique dédiées à la fois, à l'industrie chimique et pharmaceutique, et à l'industrie agroalimentaire et de l'alimentation animale.
Nous maîtrisons parfaitement de multiples techniques analytiques et fournissons des solutions conçues pour des analyses rapides (par proche infrarouge) ou des méthodes traditionnelles (méthode Kjeldahl, extraction Soxhlet), qui s'intègrent dans des protocoles de contrôle qualité les plus exigeants.
Le savoir-faire de BUCHI se traduit actuellement par le lancement d'une nouvelle gamme de systèmes de chromatographie flash et prep alliant polyvalence, encombrement réduit et sécurité maximale.
Forts de notre expérience nous avons développé des nouvelles solutions d'extraction complètement automatisées, rapides et flexibles, qui permettent de changer de méthodes au gré des exigences, et en toute simplicité.
Toutes nos solutions analytiques s'inscrivent dans une démarche écoresponsable, visant à protéger au maximum les opérateurs et préserver leur environnement de travail.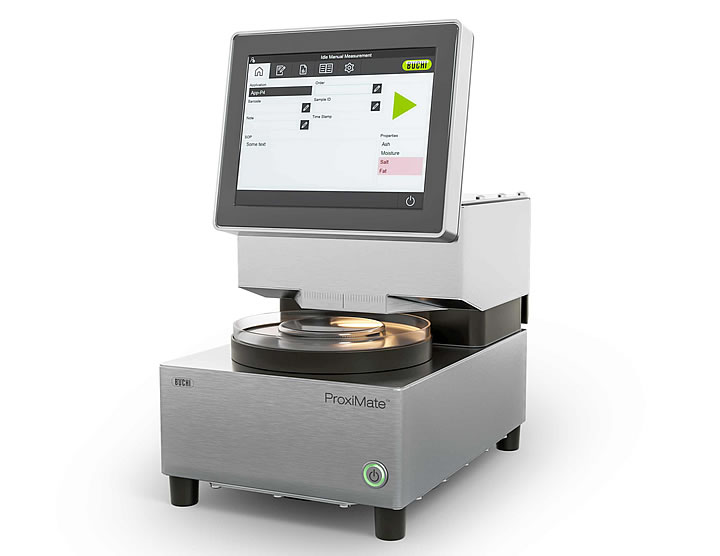 473 visites depuis 19 novembre 2018
La nomenclature de
BUCHI SARL :
accessoires pour spectrométrie IR et IRTF
-
IR and FTIR spectrometry accessories
agitateurs à va et vient
-
rocker shakers
agitateurs oscillants
-
shakers with gyratory motion
analyse aliments
-
food analysis
analyse azote
-
nitrogen analysis
analyse de l'eau
-
water analysis
analyse des nitrates
-
analysis of nitrates
analyse des pesticides
-
analysis of pesticides
analyse des sols
-
analysis of soils
analyse du lait
-
milk analysis
analyse en ligne
-
continuous analysis
analyse graisses
-
grease analysis
analyse industrielle
-
industrial analysis
analyse physico chimique
-
physical and chemical analysis
analyse physico chimique de l'eau
-
physical and chemical analysis of water
analyse protéines
-
protein analysis
analyses pétrolières
-
analysis of petrol products
analyseurs de process
-
process analysers
autoclaves
-
autoclaves
automates chimie combinatoire
-
automated instrumentation for combinatorial chemistry
automates H.T.S.
-
High Throughput Screening HTS automatic systems
azote (analyse)
-
nitrogen (analysis)
évaporateurs
-
evaporators
évaporateurs concentrateurs
-
evaporators condensers
évaporateurs rotatifs
-
rotary evaporators
bains à rampe d évaporation
-
evaporation baths
bains cryothermostats
-
cryothermostatic baths cryothermostats
blocs réactionnels pour synthèse parallèle
-
reactors for parallel synthesis
chimie combinatoire
-
combinatorial chemistry
chimie organique sur phase solide
-
solid phase organic chemistry
chromatographie phase liquide (appareils et réactifs)
-
liquid phase chromatography (instruments and reagents)
chromatographie pompes
-
chromatography pumps
chromatographie préparative
-
preparative chromatography
cloches à vide
-
vacuum bell jars
collecteurs de fraction
-
fraction colletors
colonnes à distiller
-
distillation columns
colonnes d'extraction
-
extraction columns
colonnes de chromatographie
-
chromatography columns
consommables pour chromatographie
-
consumables for chromatography
creusets
-
crucibles
cryothermostats
-
ultra low refrigerated circulators
DCO (appareils)
-
COD measurement systems
distillateurs pour azote
-
nitrogen distillation systems
extracteurs
-
extractors
extraction (système)
-
RETRACTION SYSTEM
extraction liquide / solide cartouches
-
liquid-phase / solid-phase extraction cartridges
extractions
-
extractions
formations diverses
-
training
formations en techniques analytiques
-
analytical technics (training)
formations spectrométrie IRTF
-
FTIR spectrometry (training)
fours
-
ovens
fours de laboratoire
-
laboratory ovens
gels de silice
-
silica gels
graisses
-
lubricants
gros matériels laboratoire
-
laboratory equipment
groupes de pompage
-
pump groups
groupes de pompage à vide
-
vacuum pumping units
hydrogène (appareils de mesure)
-
hydrogen (sensors)
IR et IRTF
-
IR and IRTF
Kjeldahl dosage
-
Kjeldahl titration method
logiciels de spectrométrie
-
spectrometry software
logiciels pour chromatographie
-
chromatography software
minéralisation
-
mineralisation
point de fusion
-
melting point
pompes à membranes
-
diaphragm pumps (porous membrane)
pompes à vide
-
vacuum pumps
pompes de laboratoire
-
pumps for laboratory use
pompes pour chromatographie
-
pumps for chromatography
réacteurs
-
reactors
réacteurs haute pression
-
high pressure reactors
réfrigérants
-
refrigerants
régulateurs de pression
-
pressure control systems
réparation de matériel de laboratoire
-
laboratory equipment repair
refroidisseurs
-
recirculating coolers
robotique de laboratoire
-
laboratory automation
SAV maintenance des appareils
-
instrumentation maintenance and after sales service
séparation (techniques de)
-
separation (techniques)
service apres vente SAV
-
after sales service
sondes à immersion avec fibres optiques
-
optic fiber immersion sensors
spectrophotomètres
-
spectrophotometers
spectrophotométrie proche IR,IR, IRTF
-
Near Infrared, IR, FTIR spectrophotometry
spectroscopie NIR et NIT
-
NIR AND NIT spectroscopy
synthèse chimique combinatoire
-
combinatorial synthesis
synthèse en phase solide
-
solid phase synthesis
verrerie de laboratoire
-
laboratory glassware
vide (techniques)
-
vacuum (techniques)