IDBIOTECH
1, RUE MARIE CURIE
63500 ISSOIRE
FRANCE

IDBiotech est une CRO spécialisée dans le développement d'Immuno-essais et dans la réalisation de prestations de services pour la gestion de la qualité et des risques de vos bio-produits
---
Titulaire de l'agrément CIR, IDBiotech se positionne comme une CRO partenaire dans le développement de vos projets. Nous vous proposons notamment de vous accompagner dans le développement de vos candidats médicaments et de vos activités de bio-production. La taille de l'entreprise ainsi que son organisation optimisée permettent de proposer des services personnalisés de qualité à des tarifs concurrentiels.
Le leadership de l'entreprise s'articule autour de 5 concepts clés : Expertise technique - Ecoute Client - Partenariat - Respects des Engagements - Confidentialité
10 ans d'expérience dans la gestion du risque liés à la présence des Host Cell Proteins (HCP)
• Sélection et validation des kits ELISA HCP génériques pour quantifier les HCPs générées par votre bio-procédé (Linéarité de la dilution ; LOD LOQ ; Ajouts dosés ; Spécificité)
• Comparaison des profils de bio-produits (lots de HCP, Mock Cell-line versus Cellule productrice, Drug-product, …) par électrophorèse bidimensionnelle selon la technologie 2D-DIGE
• Détermination du Coverage des anticorps polyclonaux anti-HCP sur les HCP générées par votre bio-procédé par western-blotting bidimensionnel selon la technologie 2D-DIBE (gels 20 cm x 25 cm)
• Développement, validation and fabrication de kits ELISA HCP spécifique de votre bio-procédé
• Service analytique pour le dosage des HCP dans vos bioproduits DSP (Harvest, Harvest clarifiés, intermédiaires DSP, drug-substance, drug product)

IDBiotech propose également les prestations de services suivantes

- Développement à façon d'immuno-essais
- Industrialisation de test « labo » au format « kit prêt à l'emploi »
- Validation de méthodes (ICHQ2R1 ; V03-110 ; …)
- Adaptation de tests existant à vos propres besoins (expertise, amélioration)
- Etudes de stabilités
- Purifications et marquages de protéines et anticorps
- Plateforme de dosages d'allergènes, de marqueurs, de contaminants, …
- Etude protéomique, comparaison d'échantillon par 1D et 2D SDS-PAGE, 1D et 2D Western-Blotting.
Des acteurs clés du secteur pharmaceutique et de la biotechnologie nous ont ainsi sollicités pour développer des kits ELISA de dosages des HCP, pour caractériser leurs anticorps anti-HCP par électrophorèse 2D-DIBE, pour la caractérisation de molécules recombinantes ou de peptides à activité biologique ou encore pour développer des solutions innovantes entrant dans le processus libératoire de lots de vaccins.
Les immuno-essais développés et fabriqués par IDBiotech (SRID, ELISA, Latex) s'adressent aux laboratoires de recherche et aux services analytiques des secteurs pharmaceutiques, biopharmaceutiques, agroalimentaires et vétérinaires.
Les applications sont très variées : dosage des protéines sériques laitières d'intérêt industriel (IgG, lactoferrine, phosphatase alcaline, …), dosage de marqueurs de santé animale (immunoglobulines, haptoglobine, albumine, …), certification de l'origine animale de matières premières (laits, tissus animaux, …), dosages d'allergènes (béta-lactoglobuline, ovalbumine, …).
IDBiotech est en outre le concepteur, fabricant et distributeur exclusif des tests de dosage par Immuno Diffusion Radiale IDRing® ainsi que du système numérique d'analyse d'image IDRing® Viewer et du logiciel d'interprétation IDRing® Meter.
Nos produits sont fabriqués dans un environnement qualité certifié selon la norme ISO 9001 v 2015.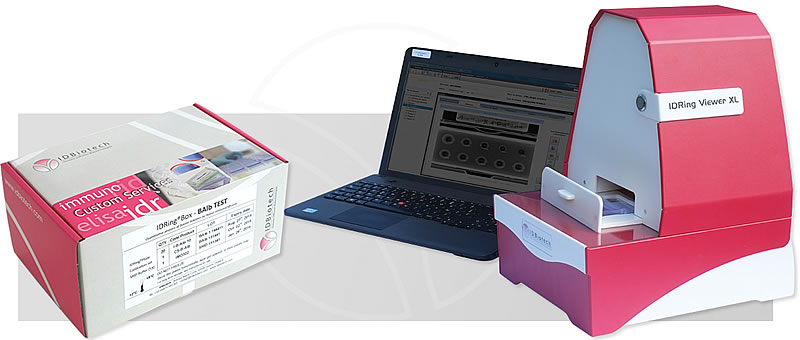 ---
IDBiotech is a CRO specialized in the development of immunoassays and analytical services for product quality control and bio-process risk management
IDBiotech is the CRO of choice to support your company in the development of your drug candidate and to optimize your bio-manufacturing process. The size of the company and its optimized organization make of IDBiotech a CRO that offers efficient services at competitive rates. The company's leadership is based on 5 key concepts: Expertise - Customer focus - Partnership - Commitments - Confidentiality
10 years of experience in the risk management associated with the presence of Host Cell Proteins in bio-products (HCP)
• Selection and validation of the HCP ELISA kit best suited for quantifying the HCPs generated in your bio-process (Dilutional Linearity-LOD-LOQ-Spike Recoveries-Specificity)
• Comparison of bio-products patterns (HCP batchs, Mock Cell-line versus Producing Cell, Drug-product, …) using 2D-DIGE bidimensional electrophoresis technology on large gel (20 cm x 25 cm)
• Coverage assessment of anti-HCP polyclonal antibodies over your HCP on large gels using 2D-DIBE fluorescent labeling technology
• Development, validation and manufacture of HCP process-specific ELISA kits
• Analytical service for the determination of HCPs in your DSP bio-products (HC, DSP purification intermediates, drug-substances, drug-product)

IDBiotech also offer a wide range of customized and efficient services

- Development of custom Immunoassays
- Industrialization of your assay into "ready to use" test kit
- Validation of methods (ICHQ2R1; V03-110; ...)
- Re-design of existing tests to your own needs (expertise, improvement)
- Stability studies
- Purification and labelling of proteins
- Analytical services for the quantification of allergens, markers, contaminants, ….
- Biochemical characterizations: 1D and 2D SDS-PAGE, 1D and 2D Western blotting
Key players in the pharmaceutical and agro-food industry trusted us to develop ELISA kits for the quantification of HCP residues, for the characterization of anti-HCP antibodies by 2D-DIBE, for the characterization of recombinant molecules or peptides with biological activity or to develop innovative solutions used in the process of vaccine lots release.
The immunoassays manufactured by IDBiotech (SRID, ELISA, Latex) are dedicated to the research laboratories and analytical services from pharmaceutical and biopharmaceutical industries as well as agro-food and veterinary industries.

The applications of the tests are diversified: quantification of added value milk proteins (IgG, lactoferrin, alcaline phosphatase, …), quantification of animal health marker (immunoglobulins, haptoglobin, albumin, …) control of the animal origin of raw materials (milks, meat, …), quantification of allergens (beta-lactoglobulin, ovalbumin, …).
IDBiotech is also the designer, manufacturer and exclusive distributor of the IDRing® Radial Immuno Diffusion tests kits as well as the digital system IDRing® Viewer and IDRing® Meter software.

Our manufacturing process is certified according to the ISO 9001 v 2015.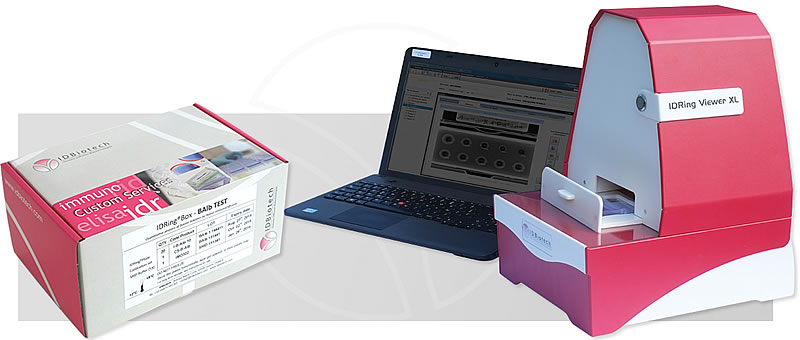 Documents PDF en téléchargement
IDBIOTECH a choisi ses mots clés en lien avec son activité :

* allergène - allergern (detection)
* analyse aliments (prestation) - food analysis (services)
* analyse composition (prestation) - composition analysis (services)
* analyse de trace (prestation) - analysis of trace element (service)
* analyse des mycotoxines (prestation) - analysis of mycotoxins (services)
* analyse du lait - milk analysis
* analyse images (prestation) - image analysis (services)
* analyse immuno-enzymatique - enzyme immuno assays
* analyse immuno-enzymatique (prestation) - enzyme immuno assays (services)
* analyse protéines (prestation) - protein analysis (services)
* anticorps - antibodies
* électrophorèse matériel protéines - protein electrophoresis instruments
* étude de stabilité - stability testing
* bioproduction - bioproduction
* biotechnologie (appareil et réactif) - biotechnology (instrument and reagent)
* chromatographie liquide basse pression - low pressure liquid chromatography
* chromatographie traitement de l échantillon - chromatography sample preparation
* colonne d'immuno-affinité - immunoaffinity column
* développement de logiciels (prestation) - software development (services)
* développement de méthodes - development of methods
* discovery (prestation) - discovery (services)
* ELISA (kit) - ELISA (kit)
* ELISA (prestation) - ELISA (services)
* essai - assay
* essai antibiotique - antibiotic assay
* expertise prestataire - valuation service
* fabrication produit spécial - manufacturing of special product
* formation - training
* gel pré-coulé en cassette pour protéines et ADN - Precast Gel for proteins and DNA
* image (analyse) - image (analysis)
* immuno - allergologie - immuno-allergology
* immuno - chimie - immuno-chemistry
* immuno - enzymatique environnement - immuno-enzymatic environment
* immuno - enzymologie - immuno-enzymology
* immuno essais - immunoassay
* immunologie - immunology
* kit de diagnostic - diagnostic kit
* laboratoire indépendant - independant laboratory (service)
* laboratoire prestataires de service - service laboratorie
* logiciel analyse images - image analysis software
* marquage d'anticorps - antibodies labeling
* microtitration - microtitration
* mise au point - development
* modélisation moléculaire sous contrat prestation - molecular modelling (services)
* module OEM - OEM module
* mycotoxine - mycotoxin
* peptide - peptide
* plaque de microtitration - microtitration plate
* préparateur de microplaque - sample preparation system for microplate
* préparation d'échantillon - sample preparation
* prestation de service - service
* produit spécifique pour analyse agroalimentaire - specific product for the food industry
* protéine caractérisation - protein caracterization
* protéine purification - protein purification
* protéine recombinante - recombinant protein
* pureté - purity
* purification d'anticorps - antibodies purification ( service)
* purification de molécules à façon (prestation) - purification of molecules (services)
* purification et analyse des protéines - protein purification and analysis
* recherche et développement outsourcing (prestation) - Research and Development outsourcing (services)
* recherche sous contrat (sciences et médecine) - contract research (sciences and medicine)
* séparation (techniques de) - separation (techniques)
* solution tampon pour immunoassay - buffer solutions for immunoassays
* stabilisateur - stabilizer
* technique séparation - separation technique
* transfert de technologie - technology transfer
* trousse ELISA - ELISA kit
* vaccin - vaccine
* western blotting (prestation) - western blotting (services)

Contacts :
Contact technique et commercial : Vincent RIVERA
04 73 54 95 01
Contact qualité : Marie-Pierre Guillaume
04 73 54 95 01

Horaires et jours d'ouverture :
Ouvert du Lundi au jeudi de 09h00 à 18h00 - Le vendredi de 09h00 à 12h30

603 visites depuis 19 juin 2020