LABO AND CO
+33 (0)1 45 98 74 80
www.laboandco.com



50 AVENUE DE GROSBOIS
BP 78
94440 MAROLLES EN BRIE
FRANCE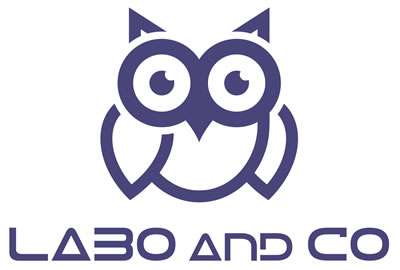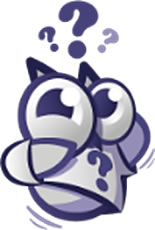 Pourquoi choisir Labo and co ?
Fournisseur de solutions techniques pour le laboratoire et l'industrie depuis 1998, notre société met à votre disposition plus de 30 collaborateurs répartis sur l'ensemble de la France. Leur rôle est de comprendre votre application, de vous proposer impartialement l'équipement et/ou le service qui permettront d'atteindre votre objectif, et enfin de les mettre en œuvre.
Tout au long du processus, vous avez un interlocuteur unique maîtrisant votre projet et son exécution.
Une gamme de matériels
Strictement sélectionnés parmi les fabricants les plus réputés, nos partenaires sont les grands noms de l'instrumentation scientifique. Pour beaucoup d'entre eux, la collaboration avec notre société a commencé il y a plus de 20 ans. Cette coopération a pu durer et se développer seulement parce que nous partageons les mêmes valeurs : qualité technique, performance, investissement durable, confiance...
Une gamme de conseils
Tous nos conseillers techniques sont formés en permanence par les fabricants que nous représentons. Leur expérience et leur formation continue vous garantissent le plus haut niveau d'expertise sur l'ensemble de notre gamme. Que ce soit avec le conseiller de votre région ou avec notre équipe sédentaire, nos collaborateurs sont à vos côtés pour appréhender votre besoin et son environnement, vous orienter et vous aider à sélectionner le matériel exactement adapté à votre application.
Une gamme de services
De l'installation d'un équipement à la conception et l'aménagement complet de votre nouveau laboratoire, de la location d'un instrument à sa qualification, d'un contrôle métrologique à l'externalisation de vos essais, de la réparation de votre matériel à la visite de maintenance préventive, Labo and Co vous accompagne sur tous les terrains. Cette gamme de services, d'une profondeur unique sur le marché français, vous garantit un interlocuteur unique capable d'appréhender l'intégralité de votre besoin.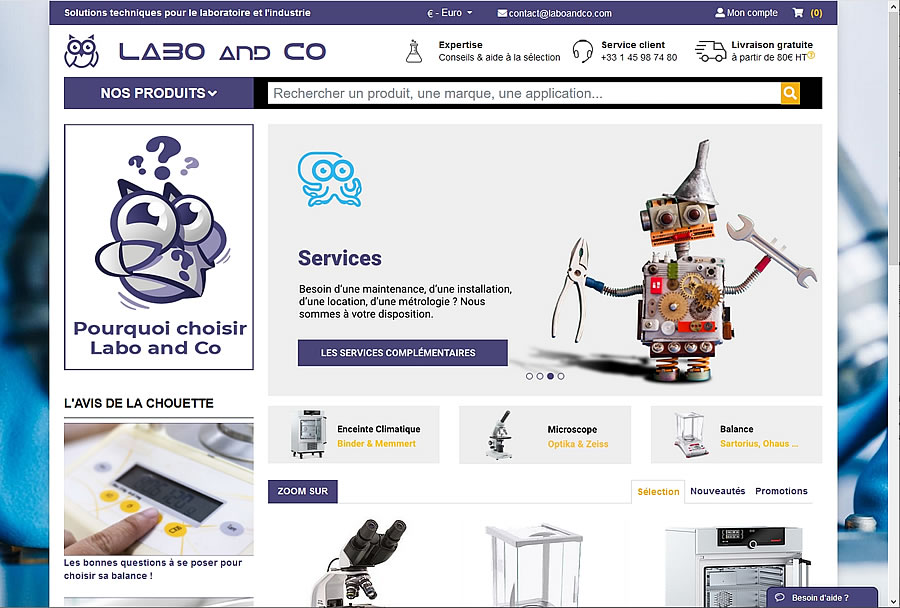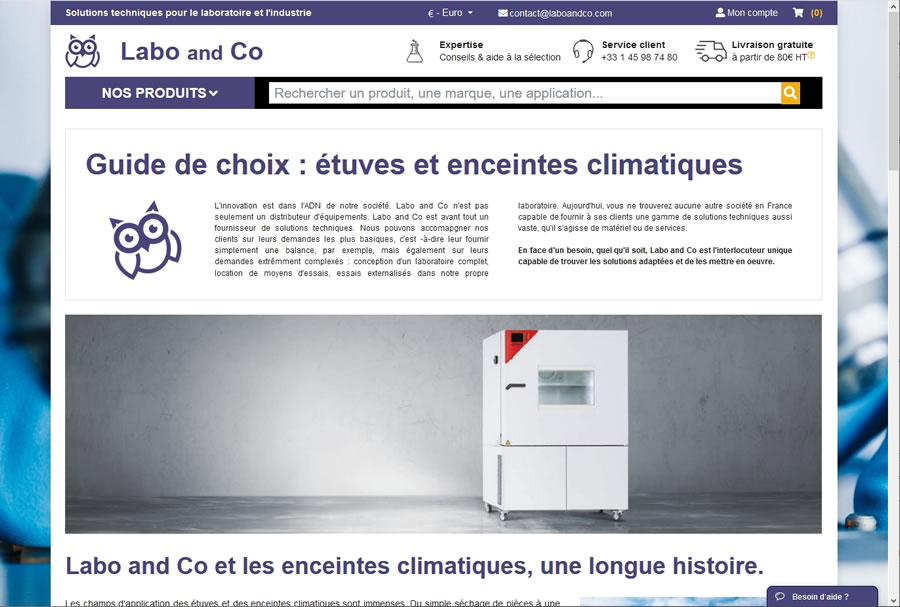 LABO AND CO a choisi ses mots clés en lien avec son activité :

* abrasimètre - abrasimeter
* accessoire caoutchouc silicone - accessorie rubber and silica
* accessoire de sécurite pour fût - accessorie - container safety
* accumulateur réfrigérant - condensor
* achat sur internet - e-purchasing
* acquisition de données - data acquisition
* activité de l eau - water activity
* activité de l eau (appareil) - water activity (instrument)
* activité de l eau (prestation) - water activity (service)
* agencement de laboratoire - laboratory agency
* agitateur - shaker
* agitateur antidéflagrant - explosion-safe stirrer
* agitateur à balancement - shaker reciprocating
* agitateur à champ tournant - agitator rotating field
* agitateur à tige - disperser
* agitateur à va et vient - rocker shaker
* agitateur bain marie - water bath shaker
* agitateur incubateur - incubator shaker
* agitateur magnétique - magnetic stirrer
* agitateur mélangeur - platform rocker
* agitateur multiposte - multi-plate stirrer
* agitateur orbital - orbital shaker
* agitateur oscillant - shakers with gyratory motion
* agitateur plaque microtitration - microplate shaker
* agitateur rotatif - rotator
* agitateur vibrant - stirrer
* ampoule à décanter - separatory funnel
* analyse air - air analysis
* analyse bactériologique eau - water bateriology testing
* analyse bactériologique eau (prestation) - water bacteriology testing (services)
* analyse CO2 - carbon dioxyde analysis
* analyse couleur - color analysis
* analyse de mercure (appareils et réactifs) - mercury analysis (instruments and reagents)
* analyse de surface - analysis of material surface
* analyse des nitrates - analysis of nitrates
* analyse du lait - milk analysis
* analyse eau - water analysis
* analyse gaz - gas analysis
* analyse pétrolière - analysis of petrol products
* analyse physico chimique - physical and chemical analysis
* analyse physico chimique eau - physical and chemical analysis of water
* analyse thermique - thermal analysis
* analyseur humidité - moisture analyser
* analyseur ions - ions charge analyser
* anémomètre - anemometer
* anémomètre portable - handheld air velocity meter
* appareil à eau distillée - distilled water apparatus
* armoire à pharmacie - medicine cupboard
* armoire à poison - safety cabinet for toxic substance
* armoire à solvant - safety cabinet for solvent
* armoire à tiroirs verticaux - cabinet with vertical drawers
* armoire de sécurité - security cabinet
* armoire de stockage de sécurité - safety storage center
* armoire ignifuge - insulated filing equipment
* armoire réfrigérée - cooled safety cabinet
* autoclave - autoclave
* éclairage de poste de travail - tasklighting
* électrode (PH, RH, ions) - electrode (PH, RH, ions)
* électrode mesure de PH - electrode for PH determination
* électrode mesure oxygène - oxygen sensor
* électrophorèse (appareil et réactif) - electrophoresis (instrument and reagent)
* électrophorèse (appareil) - electrophoresis (instrument)
* électrophorèse (réactif) - electrophoresis (reagent)
* électrophorèse capillaire (appareil et réactif) - capillary electrophoresis (instrument and reagent)
* électrophorèse capillaire (appareil) - capillary electrophoresis (instrument)
* électrophorèse capillaire (réactif) - capillary electrophoresis (reagent)
* électrophorèse matériel ADN - DNA electrophoresis instruments
* électrophorèse matériel protéines - protein electrophoresis instruments
* électrophorèse solutions prêtes emploi - ready-to-use electrophoresis gels
* éprouvette - cylinder
* éprouvette plastique - plastic cylinder
* éprouvette verre - glass cylinder
* équipement de protection individuelle (EPI) - personal protective equipment
* étalon (ou standard référence) - standard
* étalon de calibration - calibration standard
* étalon de dureté - hardness testing standard
* étalonnage (prestation) - calibration (services)
* étuve - oven
* étuve / poupinel - oven / poupinel
* étuve à CO2 - CO2 incubator
* étuve à hybridation - hybridization oven
* étuve à vide - vacuum drying oven
* étuve bactériologique - incubator
* étuve de stérilisation - hot air sterilizer
* étuve four poupinel - ovens / poupinel
* étuve réfrigérée - cooled incubator
* étuve universelle - universal drying oven
* étuve ventilée - incubator with air circulation
* étuve vieillissement - growth chamber
* évaporateur - evaporator
* évaporateur rotatif - rotary evaporator
* bactériologie (appareil et réactif) - bacteriology (instrument and reagent)
* bactériologie (appareil) - bacteriology (instrument)
* bactériologie (réactif) - bacteriology (reagents)
* bain (bain marie / thermostatique ) - bath (water bath / thermostatic bath)
* bain avec agitation - shaking water bath
* bain à sec - dry oven
* bain basse température - low temperature water bath
* bain cryothermostat - cryothermostatic bath
* bain d étalonnage - calibration bath
* bain huile - oil bath
* bain thermostaté - thermostatic bath
* bain-marie - water bath
* bain-marie multipostes - Multi baths
* balance / micro balance - balance / microbalance
* balance analytique - analytical balance
* balance à susceptibilité magnétique - magnetic susceptibility balance
* balance boite à gant - balancesglove boxe
* balance de précision - precision balance
* balance industrielle et plate forme - industrial balance and platform scale
* balance médicale - medical scale
* balance plateau antivibratoire - anti-vibration balance
* balance poids de calibrage - test weights for balance
* balance portable - pocket balance
* banc essai - test bench
* banque de sang - blood bank
* barreau magnétique - magnetic stirring bar
* bec - gas burner
* becher plastique - plastic beaker
* becher verre - glass beaker
* biochimie (réactif) - biochemistry (reagent)
* biologie (réactif) - biology (reagent)
* biologie moléculaire (appareil) - molecular biology (instrument)
* biologie moléculaire (réactif) - molecular biology (reagent)
* biotechnologie (appareil et réactif) - biotechnology (instrument and reagent)
* biotechnologie (appareil) - biotechnology (instrument)
* biotechnologie (réactif) - biotechnology (reagent)
* bloc agitation - block agitation
* bloc chauffant agité - agitated heating block
* boite à gant - isolation glove box
* boite de Pétri - Petri dishe
* boite isotherme - isotherm packaging
* boite pour congélateur -80°c cryoboite - storage box for ultra low freezers -80°c cryobox
* botte - boot
* bouchon rodé normalisé - stopcok
* broyeur - mill
* broyeur échantillon - Sample mill
* bruleur - burner
* burette - buret
* burette électronique - digital buret
* C.O.T. - T.O.C.
* calibration (prestation) - calibration (services)
* calibration standards - calibration standards
* capteur humidité - humidity sensor
* casque - helmet
* casque anti bruit - Anti Noise Headphone
* cellule de filtration - filtration unit
* centrifugeur de poches de sang - centrifuge for blood bags - microcentrifuges
* centrifugeuse - centrifuge
* centrifugeuse grande capacité - large centrifuge
* centrifugeuse grande vitesse - high speed centifuge
* centrifugeuse moyenne capacité - medium centrifuge
* centrifugeuse petite capacité - small centrifuge
* centrifugeuse petite vitesse - low speed centrifuge
* centrifugeuse réfrigérée - refrigerated centrifuge
* chambre à dessication - drying oven
* chambre à humidité contrôlée - climatic chamber with humidity control
* chambre à température contrôlée - climatic chamber with temperature control
* chauffe ballon - flask mantle
* chaussure de laboratoire - laboratory shoe
* chloromètre - chlorine measuring system
* chronomètre - chronometer
* ciseaux - shears
* ciseaux à ressort - SPRING SCISSORS
* ciseaux burin - CHISEL
* cloche à vide - vacuum bell jar
* CO2 (analyse) - carbon dioxyde analysis
* coffre ignifuge - fireproof safe
* collecteur air - air collector
* colorimètre - colorimeters color analyser
* concasseur - crusher
* conductimètre - conductivity meter
* conductimètre de laboratoire - laboratory conductivity meter
* conductimètre de poche - pocket conductivity meter
* conductimètre de terrain - conductivity meter for field use
* conductimétrie (réactif) - conductivity (reagent)
* conductivité thermique - thermal conductivity
* congélateur -20°C - deep freezer (-20°C)
* congélateur -40°C - deep freezer (-40°C)
* congélateur -50°C à -85°C - deep freezer (-50°C to -85°C)
* congélateur -80°C - deep freezer (-80°C)
* congélateur / conservateur - freezers / storage cabinet
* congélateur armoire - upright freezer
* congélateur coffre - Chest freezer
* connecteur - connector
* consommable de laboratoire - laboratory consumable
* conteneur de sécurité - safety container
* conteneur isotherme - isothermic container
* contrôle hygiène (appareil) - cleaning control (instrument)
* contrôle microbiologique de l air - microbiological air control
* contrôle qualité - quality control
* coupelle métallique - metallic cup
* cristallisoir - cristallizing dishe
* cryobroyeur - cryogrinder
* cryoplongeur - cryoplunger
* cryostat - cryostat
* cryothermostat - ultra low refrigerated circulator
* culture cellulaire (appareil) - cell culture (instrument)
* cuve à gaz - gas container
* cuve à ultrasons - ultrasound bath
* cuve électrophorèse pour acrylamide - acrylamid gel tank for electrophoresis
* cuve électrophorèse pour agarose - agarose gel tank for electrophoresis
* cuve électrophorèse pour amidon - starch gel tank for electrophoresis
* cuve pour fluorimètre - cuvette for fluorometer
* cuve pour spectrophotomètre en plastique - plastic cuvette for spectrophotometer
* cuve pour spectrophotomètre en quartz - quartz cuvette for spectrophotometer
* cuve pour spectrophotomètre en verre - glass cuvette for spectrophotometer
* cuve pour spectrophotomètre UV / VIS / proche IR - Cuvette for UV / Visible / near IR spectrophotometer
* débitmètre - flowmeter
* déminéralisateur - demineraliser
* désionisation - deionization
* détecteur de gaz - gas detection system
* DBO (appareil) - BOD measurement (system)
* DBO (réactif) - BOD (reagent)
* DBO mètre - BOD measurement system
* DCO (appareil) - COD measurement (system)
* DCO (réactif) - COD (reagents)
* densimètre - densimeter
* densitomètre - densitometer
* dessiccateur - drying oven
* dessiccateur balance électronique - moisture analyser
* dewar - dewars
* dispenseur compact - compact dispenser
* dispenseur digital - digital dispenser
* disperseur à ultrasons - ultrasound dissolver
* disperseur homogénéiseur - dissolver homogenizer
* distillateur / bidistillateur - distillation / bidistillation system
* diviseur d échantillon - sample separation
* dureté mesure - hardness test
* eau (analyse) - water (analysis)
* eau adoucisseur (appareil) - water softener
* eau déminéralisée (appareil) - water filtration (system)
* eau distillée - distilled water
* eau distillée (appareil) - water distiller
* eau osmosée (appareil) - RO systems (Reverse Osmose)
* eau sécurisée - safe water
* eau ultra pure - ultra pure water
* eau ultra pure (appareil) - ultra pure water (system)
* eau ultra pure apyrogène (appareil) - apyrogenic ultra pure water (system)
* embout pour micropipette - micropipette tip
* embout pour pipette - tip
* enceinte climatique - air conditioning unit
* endoscope - endoscope
* enregistreur - sensor
* enregistreur atmosphérique - atmospheric sensor
* enregistreur de luminosité - solar radiation sensor
* enregistreur de pH - pH sensor
* enregistreur de température - temperature sensor
* enregistreur humidité - humidity sensor
* enregistreur oxygène dissous - dissolved oxygen sensor
* entonnoir - funnel
* entonnoir en inox - stainless steel funnel
* entonnoir plastique - plastic funnel
* entonnoir verre - glass funnel
* entretien instruments (prestation) - instrument care (services)
* erlenmeyer plastique - plastic erlenmeyer flask
* erlenmeyer verre - glass erlenmeyer flask
* essai climatique - climatic test
* extracteur ADN génomique et plasmidique - genomic and plasmid DNA extractor
* fibre optique - optical fiber
* filtration - filtration
* filtration échantillons - sample filtration systems
* filtration capsule - filtration disc
* filtration cartouche - filtration cartridge
* filtration dispositif - filtration system
* filtration en ligne - continuous filtration systems
* filtration moléculaire - molecular filtration
* filtre à seringue - syringe filter
* filtre à usage unique - disposable filter
* filtre embout de seringue - syringe tip filter
* filtre en verre - glass filtration instrument
* filtre pour hotte - filter for laminar flow unit
* fiole plastique - plastic flask
* fiole verre - glass flask
* flacon plastique - plastic vial
* flacon verre - glass vial
* flaconnage - bottling
* floculateur - flocculator
* four - oven
* four à moufle - muffle furnace
* four de laboratoire - laboratory furnace
* gant - glove
* gant anti chaleur - heat resistant glove
* gant anti froid - cryo glove
* gant en coton - cotton glove
* gant en latex - latex glove
* gant en soie - silk glove
* gant en vinyl - vinyl glove
* gant pour salle blanche - glove for use in cleanroom environment
* gaz (analyse) - gas (analysis)
* gaz (cartouches, bouteilles, générateurs ) - gas (cartridges, cylinders, generators)
* gaz (détecteur) - gas detector
* générateur de gaz (hydrogène/azote/air zéro) - gas generator (hydrogen/nitrogen/air)
* gel hydroalcoolique GHA main - Hand sanitizer
* gel prêt à l emploi électrophorèse - ready to use gel for electrophoresis
* glace machine - ice machine
* granulomètre - particle size analyser
* gros matériel laboratoire - laboratory equipment
* groupe de pompage - pump group
* groupe de pompage à vide - vacuum pumping unit
* hélice - propeller stirrer
* hématologie (appareil et consommable) - hematology (equipment and reagent)
* hématologie (appareil) - hematology (equipment)
* homogénéiseur - homogenizer
* hotte - fume hood
* hotte aspirante - extractor hood
* hotte à charbon actif - activated carbon cupboards
* hotte à filtre - filtration fume cupboard
* hotte flux laminaire - laminar flow hood
* hotte PCR - PCR workstation
* hotte PSM poste sécurite microbiologique - microbiological safety cabinet
* hotte sorbonne - fume cupboard
* huile pour bain - bath oil
* humidimètre - humidity sensor / meter
* hydrogène (appareil de mesure) - hydrogen (sensor)
* hygiène et désinfection - cleaning and disinfection
* hygiène et sécurité - cleaning and safety
* hygromètre - hygrometer
* incubateur - incubator
* incubateur agité - shaked incubator
* incubateur de microplaque - microplate incubator
* ionomètre - ion meter
* ionomètre de paillasse - benchtop ion meter
* ionomètre de terrain - field ion meter
* ionomètre portable - portable ion meter
* jeu de poids - adjusting weights
* Karl Fischer dosage - Karl Fischer titration
* lampe à application scientifique - medical and scientific lighting
* liquide de bain - bath liquid
* loupe - loupe
* loupe binoculaire - binocular loupe
* lunette - goggle
* lunette de protection UV - ultra violet blocking goggle
* lunette de sécurité - safety goggle
* luxmètre - light meter
* lyophilisateur - freeze dryer
* machine à glace - ice machine
* machine à laver - washing machine / washer
* macropipette - macropipette
* manomètre - manometer
* masque anti poussière - dust mask
* masque complet filtrant - filter mask
* masque de protection - safety masks
* masque FFP2 grippe A - Safety mask FLU A
* matériel d occasion - used equipment
* matériel de stérilisation - sterilisation equipment
* matériel en inox - stainless steel equipment
* matériel en PTFE - PTFE equipment
* médical (appareil et instrument) - medical equipment
* membrane filtrante - filtration membrane
* mesure de densité - density
* mesure de surface - surface testing
* mesureur épaisseur de revêtement - coating thickness measurement
* meuble de laboratoire - laboratory furniture
* meuble sous paillasse - storage unit under lab bench
* microbiologie (appareil et réactif) - microbiology (equipment and reagent)
* microbiologie (appareil) - microbiology (equipment)
* microcentrifugeuse - microcentrifuge
* microfiltration - ultrafiltration - microfiltraiton ultrafiltration
* micropipette - micropipette
* micropipette automatique - automatic micropipette
* micropipette capillaire usage unique - single use capillary micropipette
* microscope - microscope
* microscope accessoire - microscope accessorie
* microscope adaptateur video - video microscopy system
* microscope caméra et moniteur - microscope camera and monitor
* microscope inverse - inverted microscope
* mobilier de laboratoire - laboratory furniture
* mobilier inox - stainless furniture
* mortier - mortar
* néphélomètre - nephelometer
* nettoyage par ultra sons - ultrasonic cleaning
* noix universelle - bosshead
* oenologie (appareil et réactif) - oenology (equipment and reagent)
* oenologie (appareil) - oenology (equipment)
* oenologie (réactif) - oenology (reagent)
* osmomètre - osmometer
* osmose (appareil et consommable) - osmosis (equipment and consumable)
* oxygène dissous (appareil) - dissolved oxygen (equipment)
* oxymètre (accessoire et sonde) - oxygen meter (accessorie and sensor)
* oxymètre de laboratoire - benchtop oxygen meter
* oxymètre de terrain - field oxygen meter
* oxymètre portable - portable oxygen meter
* pack de purification eau - water purification kit
* paillasse de laboratoire - laboratory benche
* paillasse fixe - benche
* paillasse mobile - mobile benche
* panier en acier inox - wire basket
* papier absorbant - paper towel
* papier essuyage - wiping paper
* papier filtre - filter paper
* papier indicateur - indicator paper
* petit matériel laboratoire - laboratory supplie
* pH mètre - pH meter
* pH mètre cable adaptateur pour électrode - pH meter cable and connector for electrode
* pH mètre de laboratoire - benchtop pH meter
* pH mètre de terrain - field pH meter
* pH mètre imprimante - pH meter printer
* pH mètre portable - pocket pH meter
* pH mètre simulateur - pH titration simulation system
* pH mètre solution tampon - pH meter (calibration) buffer solution
* photomètre - photometer
* photomètre portatif - pocket photometer
* picnomètre - pycnometer
* pince à creuset - crucible tong
* pipeteur - pipetting aid
* pipette - pipette
* pipette automatique - digital pipette
* pipette électronique - electronic pipetting
* pipette graduée en plastique - graduated plastic pipette
* pipette graduée en verre - graduated glass pipette
* pipette multicanaux - multichannel pipette
* pipette pasteur non stérile - non-sterile pasteur pipette
* pipette pasteur stérile - sterile pasteur pipette
* pissette - plastic bottle
* plaque de filtration - filtration plate
* poids ajustage - calibrating weights
* point de rosée - dew point
* pointe pour micropipette - micropipette tip
* poire à pipeter en caoutchouc - rubber pipette bulb
* polarimètre - polarimeter
* pompe auto amorçante - self priming pump
* pompe à circulation - circulation pump
* pompe à gaz - gaz handling pump
* pompe à membranes - diaphragm pump
* pompe à palettes - rotary-vane vacuum pump
* pompe à pistons - piston vacuum pump
* pompe à vide - vacuum pump
* pompe à vide antidéflagrante - ATEX vacuum pump
* pompe de distribution - distribution pump
* pompe de laboratoire - pump for laboratory use
* pompe doseuse - dosing pump
* pompe péristaltique - peristaltic pump
* pompe pour gaz corrosif - pump for corrosive gase
* porcelaine de laboratoire (accessoire) - porcellain product for laboratory use
* portoir pour pipette - pipette stand
* portoir pour tube - tube rack
* portoir pour tube à essai - Test tube rack
* pot en plastique - plastic container
* pot en verre - glass container
* préparation échantillon - sample preparation
* produit chimique - chemical
* produit de lavage - washing product
* produit de nettoyage - cleaning product
* PSM (poste de sécurite microbiologique) - microbiological safety cabinets
* quartz (accessoire) - quartz
* raccord - fitting
* raccord à vis - screw connection
* raccord capillaire - raccord capillaire
* raccord Luer-Lock - raccord Luer-Lock
* raccord macro tuyau à olive - fitting macro olive pipe
* raccord mini tuyau à olive - mini olive pipe fitting
* rack pour congélateur - freezer storage boxe, freezer rack
* radioactivité (détecteur) - radioactivity (detection system)
* radiomètre UV - UV radiometer
* radioprotection - radiation protection
* réfractomètre - refractometer
* réfrigérateur - freezer
* régulateur de pression - pressure control system
* réparation de matériel de laboratoire - laboratory equipment repair
* réparation de matériel de mesure - measuring equipment repair
* refroidisseur - recirculating cooler
* robinet - tap
* robinet filtre - filter tap
* rotor - rotator
* sabot de laboratoire - shoe laboratorie
* sac autoclavable - autoclavable bag
* sac à stérilisation - sterilization bag
* séchage par Micro-Ondes - micro-wave drying
* sécheur pour gel d électrophorèse - electrophoresis gel dryer
* séparation (techniques de) - separation (techniques)
* scalpel - scalpel
* secoueur orbital - orbital shaker
* secoueur tridimensionnel - three-dimensional shaker
* secoueur va et vient - shaker comes and goes
* secoueur vibrant - vibrating shaker
* service apres vente SAV - after sales service
* siège de laboratoire - laboratory seating
* solution de stockage pour électrodes - electrode storage solution
* solution entretien pour électrodes - electrode cleaning solution
* sonde de température - temperature sensor
* sonde température PT100 - temperature sensor PT 100
* sonde température thermistance - thermistor
* sonde température thermocouple - thermocouple temperature sensor
* sonomètre - sonometer
* sorbonne - fume cupboard
* spectrocolorimétrie - spectrocolorimetry
* spectrophotomètre - spectrophotometer
* spectrophotométrie UV, UV/visible - UV, UV/visible spectrophotometry
* statif - stand
* stéréomicroscope - stereomicroscope
* stérilisateur - sterilizer
* stockage de fûts - container storage
* stroboscope - stroboscope
* support technique / conseil - technical support / consulting
* table antivibratoire - antivibration table
* tamis / tamiseur - sieve / sieving machine
* technique séparation - separation technique
* tensiomètre - tensiometer
* thermobalance - thermobalance
* thermomètre - thermometer
* thermomètre étalonnage - thermometer calibration
* thermoplongeur - immersion heater
* thermorégulateur - heat regulator
* thermosoudeuse - heat sealer
* thermostat - thermostat
* thermostat à immersion - Heating Immersion Circulator
* thermostat sur pont - Bridge Mounted Circulator
* transport de sang - transport of blood products
* transport isotherme - isotherm transport packaging
* tube à centrifuger - centrifuge tube
* tube de pression - pressure tube
* tube PVC-U - tube PVC-U
* tubulure - tubulure
* turbidimètre - turbidimeter
* tuyau - tubing
* tuyau aération - ventilation hose
* tuyau acide et alcalin - acid and alkaline pipe
* tuyau acide minéraux - mineral acid hose
* tuyau air chaud - hot air hose
* tuyau air comprimé - compressed air hose
* tuyau anti-électrostatique - anti-electrostatic hose
* tuyau à double gaine - double sheath pipe
* tuyau à gaz - gas hose
* tuyau à liaison - connecting pipe
* tuyau à membrane - membrane hose
* tuyau à soufflet - bellows pipe
* tuyau à vide - vacuum hose
* tuyau à vin - wine pipe
* tuyau échangeur de chaleur - heat exchanger pipe
* tuyau élastomère - elastomeric pipe
* tuyau basse pression - low pressure hose
* tuyau benzène - benzene hose
* tuyau carburant et lubrifiant - fuel and lubricant hose
* tuyau code de couleur - color coded pipe
* tuyau composite - composite pipe
* tuyau d aspiration - suction pipe
* tuyau de laboratoire - laboratory hose
* tuyau de précision - precision pipe
* tuyau de vapeur - steam pipe
* tuyau eau chaude - hot water pipe
* tuyau eau de mer - seawater hose
* tuyau eau de refroidissement - cooling water hose
* tuyau en polyoléfine - polyolefin pipe
* tuyau en tissu de verre textile - textile glass cloth pipe
* tuyau EPDM - EPDM hose
* Tuyau EPDM/PP - EPDM / PP hose
* Tuyau EVA - EVA hose
* Tuyau FPM - FPM hose
* tuyau fuel - fuel hose
* tuyau haute pression - high pressure hose
* tuyau haute température - high temperature pipe
* tuyau huile minérale - mineral oil hose
* tuyau industrie - industry pipe
* tuyau isolant soie de verre - glass fiber insulation pipe
* tuyau isolation de chaleur - heat insulation pipe
* tuyau LDPE/PVC - LDPE / PVC pipe
* tuyau micro cathéter - micro catheter hoses
* tuyau micro tuyau / capillaire - micro hose / capillary hose
* tuyau moyenne pression - medium pressure hose
* tuyau multi canaux - multi channel pipe
* tuyau multivoies - multichannel pipe
* tuyau NBR (Nitrile) - NBR (Nitrile) hose
* tuyau NR - NR pipe
* tuyau pharma - pharma pipe
* tuyau pneumatique et hydraulique - pneumatic and hydraulic hose
* tuyau pompe tubulaire - tubular pump hose
* tuyau pompe tubulaire avec stoppeur - tubular pump hose with stopper
* tuyau pour boisson - drink pipe
* tuyau pour l analyse chimique - pipe for chemical analysis
* tuyau pour produit alimentaire - food pipe
* tuyau produit chaud - hot product hose
* tuyau produit laitier - dairy product hose
* tuyau profilé - profile pipe
* tuyau PUR - PUR pipe
* tuyau PVC - PVC pipe
* tuyau raccord vanne - tubing fitting valve
* tuyau respiratoire - breathing hose
* tuyau silicone - silicone hose
* tuyau solvant - solvent hose
* tuyau soufflant - blowing hose
* tuyau spiralé - spiral pipe
* tuyau thermo rétractable - heat shrink tubing
* tuyau thermo soufflant - thermo blowing pipe
* tuyau TPEE - TPEE pipe
* tuyau tressé acier spécial - braided stainless steel pipe
* tuyau tube ondulé - corrugated pipe
* ultracentrifugeuse - ultracentrifuge
* ultracryostat - Ultra-low Refrigerated Circulator
* ultraviolet (source) - Ultra Violet light (source)
* UV tube et filtre de rechange - UV tube and filter
* vacuomètre - vacuum meter
* valve - valve
* vêtement de protection - protective clothing
* verrerie de laboratoire - laboratory glassware
* verrerie volumétrique - volumetric glassware
* vide (technique) - vacuum (technique)
* vide manifold - Vacuum Manifold
* viscosimètre - viscosimeter
* vortex - tube shakers

Historique des articles présentés dans la Gazette du LABORATOIRE
| | | |
| --- | --- | --- |
| JANVIER 2022 | Labo and Co, partenaire de l'expédition scientifique Antarctique 2°C | |
| JUIN 2021 | Labo and Co et Prorata fusionnent pour toujours plus de réactivité et de synergie ! | |
| MARS 2015 | Labo and Co ouvre une agence en Rhônes-Alpes ! | |
| NOVEMBRE 2012 | Labo and Co : des perspectives, du dynamisme, de l'enthousiasme ! | |
| JUILL/AOUT 2011 | Concentrez-vous sur vos recherches, Labo and Co vous facilite celles de votre matériel! | |
Contacts :
Standard
01 45 98 74 80
Pour un devis, une commande, une question technique : M. SALGUEIRO
01 45 98 67 61
Pour un devis, une commande, une question technique : M. LECANTE
01 45 98 67 60
Pour un devis, une commande, une question technique sur le Sud-Est : M. THEVENET
06 40 14 78 06
Pour un devis, une commande, une question technique sur le Sud-Ouest : M. ROUQUETTE
06 40 14 78 06
Pour un devis à l'export : Mme TARGET
01 82 38 03 96
Pour une question SAV / technique : M. CALVEZ
01 45 98 67 63
Pour une question comptable/Administrative : Mme SCHILTZ
01 45 98 67 62

Horaires et jours d'ouverture :
Du lundi au vendredi de 9h30 à 18h00

548 visites depuis 01 janvier 2023